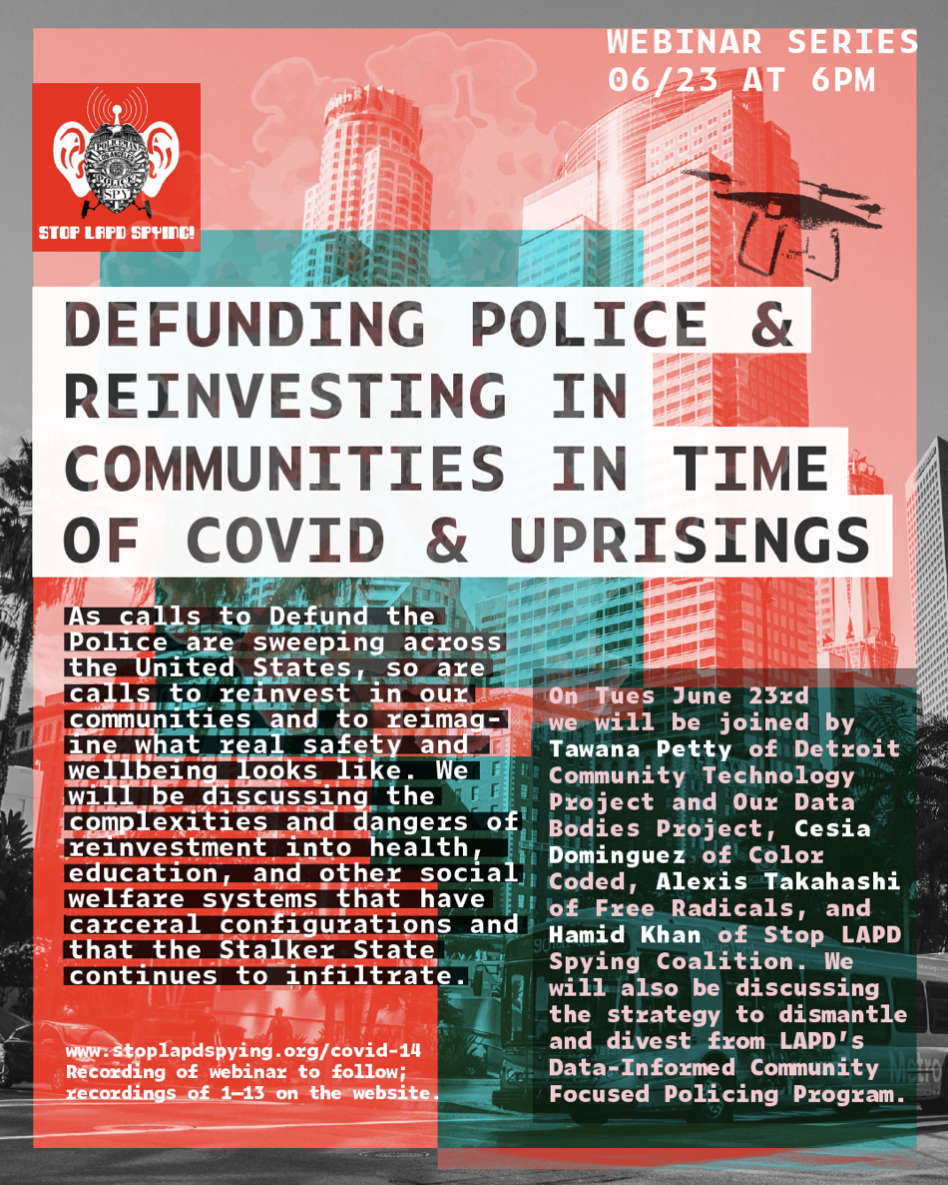 Stop LAPD Spying: Defunding Police & Reinvesting in Communities in Time of COVID & UPRISINGS
Hosted by the Stop LAPD Spying Coalition
"As calls to Defund the Police are sweeping across the United States, so are calls to reinvest in our communities and to reimagine what real safety and wellbeing looks like. Join us at the Stop LAPD Spying Coalition over Zoom for Pt 14 of our Power Not Paranoia webinar series on June 23rd at 6pm. This will also be a working meeting. We will be discussing the complexities and dangers of reinvestment into health, education, and other social welfare systems that have carceral configurations and that the Stalker State continues to infiltrate.
Joining us in this discussion will be Tawana Petty, mother, organizer, author and poet. Tawana is also Director of Project @DetCommTech and co-lead at Our Data Bodies, Cesia Dominguez of Color Coded, Alexis Takahashi of Free Radicals, and Hamid Khan of Stop LAPD Spying Coalition. We will also be discussing the strategy to dismantle and divest from LAPD's Data-Informed Community Focused Policing Program.
ABOUT US

The people's university.
Think tank for resistance movements
Training school for a new generation of university labor organizers.
About the strike
OUR VISION

Public education free and accessible for everyone - without student debt.
Critical thinking and skills - not bound to the imperatives of the market.
Communities of care and shared struggle - not competition for grades & grants.
Brilliance - without 'experts'.

Learn your power to organize personal and social transformation.
Decolonize, democratize, queer, and abolish the university.