Scores for Self Care


This series of movement/arts-based/somatic offerings is an embodied practice for self-care, so we can show up with more energy for our communities and our labors of love. Teaching/learning and activism can be as exhausting, as much as they can be replenishing. They require that we not only take care of the physical body through which this work is done, but also to the mind and spirit, which nourish our commitments and desires. It is also very important that we integrate body/mind/spirit, and that we connect to the place we are in – always, but especially during the stressful and uncertain times that we find ourselves in now.





This event was recorded on
Wednesday, April 8th, 2020

Scores for Self-care

by Carolina Novella and Anuj Vaidya (UC Davis)


This weekly offering is an embodied practice for self-care, so we can show up with more energy for our communities and our labors of love. Teaching/learning and activism can be as exhausting, as much as they can be replenishing. They require that we not only take care of the physical body through which this work is done, but also to the mind and spirit, which nourish our commitments and desires. It is also very important that we integrate body/mind/spirit, and that we connect to the place we are in – always, but especially during the stressful and uncertain times that we find ourselves in now. This week, we will lead you through an embodied visualization/meditation/movement practice that is inspired by Natasha Myer's 'Kriya For Your Inner Plant'. The session will be pre-recorded and made available via Strike U on Wednesday morning. We will bring you a different practice every week, scores for self-care that build into a symphony.

The work of activism can be exhausting. This workshop is offered as a gift to those on the frontlines of organizing the COLA Strike, an opportunity to re-energize oneself through an embodied meditation/visualization practice.

Carolina Novella and Anuj Vaidya are graduate students in Performance Studies at UC Davis. Their work is invested in building community and addressing community needs through art as social practice.

Image Credit: Travis Bedel, Anatomical Collage

This event was recorded on
Friday, April 17th, 2020

Scores for Selfcare: Activating Our Gooey Bodies


Facilitators: Kevin O' Connor

Bio: Kevin O'Connor is a multidisciplinary artist working as a choreographer, dancer, improviser, circus artist and installation artist from Ontario, Canada and now based in the Bay area. He is involved in a decade-long artistic collective exploring participatory de-colonizing performances within polluted watersheds in Ontario, and his research examines anatomies, body performance capacities, interventions and imaginations in relation to science studies, including the material-bio-cultural tissue called fascia.

Workshop Description: We start this practice with imagining becoming a plume of smoke (I learned this practice from Wolastoqey Indigenous dancer Ivanie Aubin-Malo who transmitted the Fancy Shawl dance to a group of us). We will then play with jiggling, shaking and swiping the body (thinking with activating the interconnective tissue). We will activate our gooey bodies (dance improviser Ray Chung taught me this). Finally, we will attend to our "midline of well being." This practice comes from my own training in biodynamic craniosacral practice (a touch-based somatic practice that emerges out of the osteopathy lineage).

This event was recorded on Thursday, April 23rd, 2020
Scores for Selfcare: Cultivating Delight

Facilitator: Margaret Kemp

Bio: Margaret Kemp is Associate Professor of Theater and Dance at UC Davis. Her performance practice questions how systems of scientific and social engineering manipulate voice, breath, flesh, communities and the natural world.

Workshop Description: In this practice-based workshop, we will explore physical approaches to cultivating delight in the present. Delight here is not so much a synonym for hope or for resolution, but a momentary opening allows us to breathe, to counter the stress and grief of the present, and to engage the 'other' ways of being that continue to persist in this world.

For the workshop: Ideally, you will be dressed to move, have room to lie down (using a yoga mat or blanket), and have access to paper and colored pencils or crayons or anything to color with.

"But in the process of thinking about it, I have really been thinking that joy is the moments — for me, the moments when my alienation from people — but not just people, from the whole thing — it goes away. And it shrinks. If it was a visual thing, everything becomes luminous. And I love that mycelium, forest metaphor, that there's this thing connecting us. And among the things of that thing connecting us is that we have this common experience — many common experiences, but a really foundational one is that we are not here forever."
- Ross Gay, Poet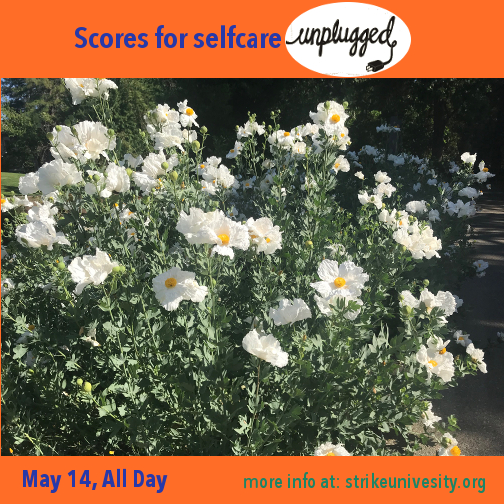 This event was on Thursday, May 14th, 2020

Scores for Selfcare: Unplugged

This week, our Score for Selfcare is to find an hour (or two, or three, or four...) in your day to unplug all your devices, and to unplug from all your devices.

Open a window, and gaze out.
Soak in a bath.
Go for a st/roll.
Take a nap.

Treat your body and your devices to some well-deserved rest!
We will return next week with a drawing score led by Katelyn Stiles.


This event was recorded on
Thursday, May 21st, 2020
Scores for Selfcare: Seeing Touch

What: Seeing Touch: Somatic Scores for Drawing What We See

Who: Offered by Katelyn Stiles and Accompanied by Barnaby Tree with Cello

When: This session will be pre-recorded and uploaded to Strike University on May 21.

Starting with sensing gravity with our bodies, we will activate a soft sight and explore drawing while not looking at the paper. This is a sensorial way of drawing for the experience rather than a result. Drawing allows us to slow down, observe where we are, and opens up a new sense of being. For this practice, have some space on the floor to lie down, some sheets of paper, and something to draw with of your choice (I recommend charcoal or something that easily moves on the paper). Barnaby will generously support us with his cello.

Katelyn Stiles is an interdisciplinary artist and PhD student in Native American Studies at UC Davis with an emphasis in Performance Studies. Her background is in dance, drawing and film. She studied Art Practice &: Dance/Performance Studies at UC Berkeley, and for the last decade has worked professionally in dance film and dance documentation in the Bay Area and Berlin. Katelyn was born in California and is :a tribal member of the Central Council of Tlingit and Haida Indian Tribes of Alaska.

Barnaby Tree is a dancing cellist, a singing poet and visual composer in the MFA program of Theater and Dance at UC Davis. His process of work is improvisation in performance, in music and in visual art. The possibility of the live act, and the potential, is that I and others can enter into an expanded state of presence. A state of improvisation that responds to the present and brings with it the changing past." :He has a regular performance practice, has produced 5 albums, composes music for film, and has worked with performance companies and performed in improvisation festivals in Europe for the past 30 years.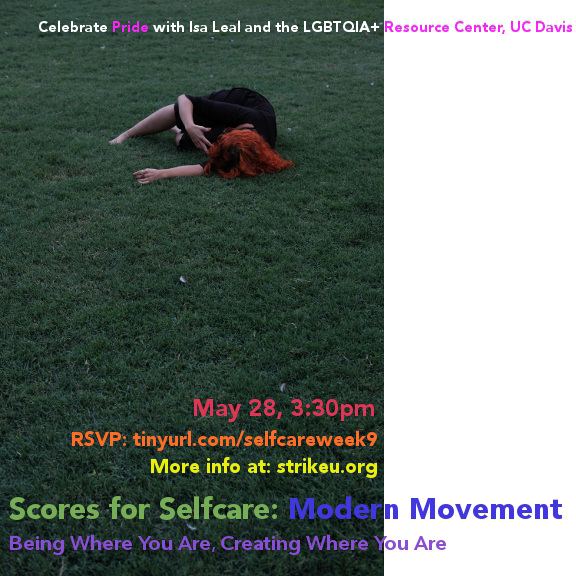 This event was recorded on
Thursday, May 28th, 2020
Scores for Selfcare: Modern Movement

Being Where You Are, Creating Where You Are

Facilitated by: Isa Leal
Facilitator Bio: Isa (she/they) is a latinx performing artist and somatic researcher who has worked for over a decade with movement/dance modalities and experimental theatre techniques that promote self reflection. Through her developing methodology, Dialoguing theUnconscious, and her Ph.D research, she is investigating the question: How do we share/acknowledge knowledge that can't (in a"regular" way) be seen? She is deeply invested in pre-colonized ways of knowing.

Workshop Details: Celebrate Pride with Isa Leal and the LGBTQIA+ ResourceCenter at UC Davis! Through meditation, mindfulness, and embodied creativity techniques, participants will be offered tools to support the expression of their personal narratives through dance. Let's connect with our bodies and minds through modern movement.

*No dance experience necessary. If possible, please have enough floorspace cleared in a room a minimum of 4x8 feet or feel free to practice outside"




This event was recorded on
Thursday, June 11th, 2020
Scores for Selfcare: Creating Togetherness

The scores will be recorded and uploaded on Thursday morning:

Deeplistening
Highbrow and home
Drawing and smelling
You are glad I did not say a banana

Facilitators: Sarah Miller, Rehata Zacarias, Maurice Moore, Julia Houk, Kevin Dockery, and Caro Novella

Bio: These scores have been created within a class/lab on socially engaged performance at UC Davis, and collectively crafted and contributed to the ongoing efforts of Strike University.

Description:We are a community of learners interrogating what it means to create togetherness in times of stagnation and isolation (covid-19). We are offering practices to explore sensory experience and grounding that center around smelling, tasting, drawing, and slowing down. We are doing this as a means to hold spaces of joy, pleasure, collective care and deep attention and to help us stay present in our current surroundings, particularly acknowledging the way in which systemic racism and violence is erupting. Therefore, we chose scores that are supportive of a gentle engagement with self and the social atmosphere.

While these scores can be done independently, some benefit from being shared. Feel free to share or do them with anyone who will enjoy them.

Bring an orange, some paper and pens/pencils, and a blanket you love!

MATERIALS:

Drawing materials--markers, crayons, colored pencils, pens
Paper
Masking tape (optional)
Something to smell
Blindfold
An orange (or whatever citrus is on hand)
A favorite blanket
Music
Headphones
ABOUT US

The people's university.
Think tank for resistance movements
Training school for a new generation of university labor organizers.
About the strike
OUR VISION

Public education free and accessible for everyone - without student debt.
Critical thinking and skills - not bound to the imperatives of the market.
Communities of care and shared struggle - not competition for grades & grants.
Brilliance - without 'experts'.

Learn your power to organize personal and social transformation.
Decolonize, democratize, queer, and abolish the university.