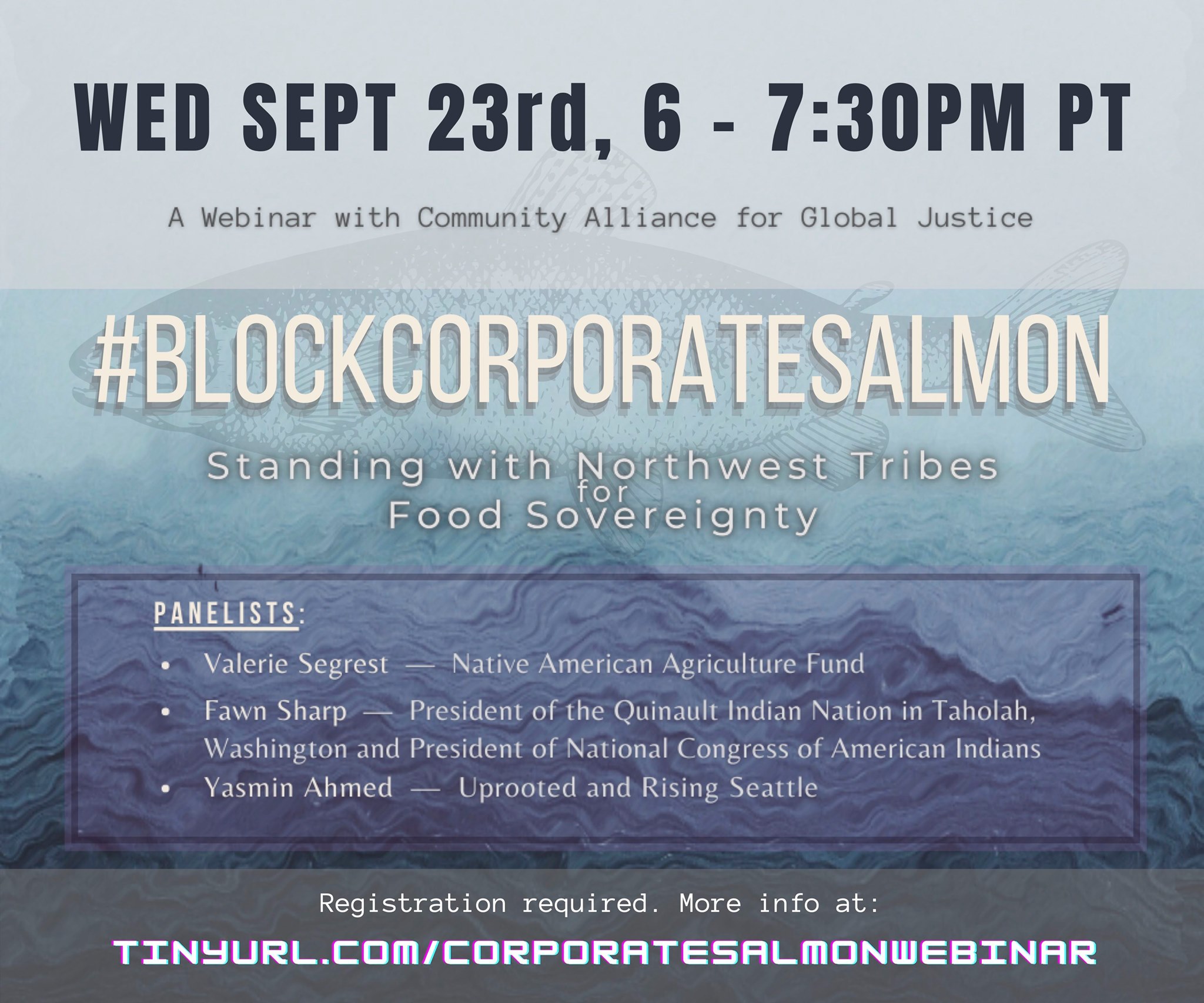 Block Corporate Salmon: Standing with NW Tribes
Public · Hosted by
Community Alliance for Global Justice
and
Uprooted & Rising
This event has been rescheduled to take place SEPT 23!
#BlockCorporateSalmon: Standing with Northwest Tribes for Food SovereigntyRegistration is required:
TinyURL.com/CorporateSalmonWebinar
[The Zoom link will be sent the day before the event.]
2020 is a battleground for the ocean. Aquabounty, a generally unknown brand in the U.S., plans to release Genetically Engineered (GE) Salmon onto the U.S market within this year. In addition, Cargill, the largest private company in the U.S., is pushing for a federal bill (the AQUAA Act) that would expand offshore aquaculture into federal waters, confine hundreds of thousands of farmed fish, and forever change our last public commons, the ocean.
You are invited to connect with participants of CAGJ's Rise Up! Summer School as well as Uprooted and Rising organizers this month when we co-present our campaigns to stop GE salmon, and uplift all of the incredible work being done around the country by Tribes to build indigenous Food Sovereignty.
Join us to hear a campaign update and learn how to take action to
#BlockCorporateSalmon
!We are honored to be joined by the following leaders:
SPEAKERS:
*Valerie Segrest, Native American Agriculture Fund
*Fawn Sharp, President of the Quinault Indian Nation in Taholah, WA and President of National Congress of American Indians
*Yasmin Ahmed, Uprooted and Rising Seattle
Register today!
TinyURL.com/CorporateSalmonWebinar
ABOUT US

The people's university.
Think tank for resistance movements
Training school for a new generation of university labor organizers.
About the strike
OUR VISION

Public education free and accessible for everyone - without student debt.
Critical thinking and skills - not bound to the imperatives of the market.
Communities of care and shared struggle - not competition for grades & grants.
Brilliance - without 'experts'.

Learn your power to organize personal and social transformation.
Decolonize, democratize, queer, and abolish the university.